Greeting from the Dean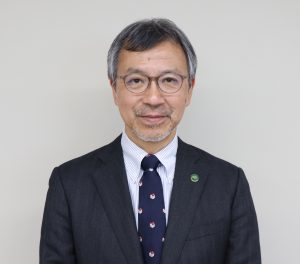 The Iwate University United Graduate School of Agricultural Sciences (Iwate UGAS) located in the rich natural environment of Tohoku area consists of three constituent universities (Hirosaki University, Iwate University and Yamagata University). This Tohoku region is blessed with abundant nature and plays an important role in the nation's agriculture for food production. With mutual cooperation beyond the framework of each university, the continuous contribution of the UGAS researchers with advanced expertise and splendid academic knowledge in diversified research fields adds up significantly to the advancement of academic research and the development of related industries in the agronomics of Japan. With this concept in mind we educate doctoral graduates and successful researchers with both global and local perspectives.
Since its establishment in 1990, Iwate UGAS has produced more than 800 doctoral graduates coming from all over the world who are currently working hard to solve various issues worldwide. The foundation lies on the distinctive excellent curriculum of our Graduate School, focusing on both global and local concerns. In addition to those initiatives aimed at encouraging the students with a global mindset such as "Science Communication in English", "Overseas Research Internships" as well as "Communicating through International Conferences", we also aim to nourish the ability of the students to disentangle the local issues by conducting "Tohoku Aricultural Science Seminars", "Science Communication Camp", and "Research Internships".
We all know that currently, the conditions of food, environment, natural resources and energy sources linked to humanity are extremely frightening. We need to improve this circumstance as much as possible and build a sustainable society on a global ground. On September 2015, Sustainable Development Goals (SDGs) were approved at the UN Summit, where 17 goals and 169 targets were set for achieving a sustainable world with a promise of "leave no one behind" slogan. Among these 17 goals, numerous goals are related to agriculture. I believe that successful doctoral graduates will play an extremely vital role in achieving these benchmarks. Therefore, doctoral program studies should be regarded as chief educational institutions that foster leaders of the future society with the aim of achieving a sustainable society.
The Iwate University Graduate School of Agricultural Sciences has a wonderful combination of global and local perceptions while utilizing the manpower, research resources and the educational culture of the three constituent universities. I would like to give my utmost efforts to foster and produce noble human resources who will help build an improved sustainable world in future.