What is a Dual Degree?
The Dual Degree program is a thesis degree program which awards two degrees from UGAS, and the U of S, which has a reciprocal agreement with UGAS. Students who have successfully completed the program and have met the requirements from both universities will be granted two degrees from the universities in four years at the earliest.
Students enroll at UGAS and U of S at the same time, and can take lectures from professors at both universities. The students study for one and a half years at each university. The students will have opportunities not only to improve their English skills, but also to have outstanding experiences in partnership with people in different fields, through communication with a wide range of professional researchers and technical experts. This program will develop their global perspective and career, and carry out globally competitive research.
Introduction to University of Saskatchewan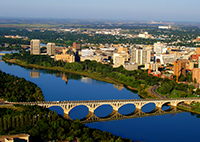 University of Saskatchewan is located in Saskatoon, Canada, and is one of the sunniest cities in Canada. Saskatoon is divided by the South Saskatchewan River, and Saskatoon's east and west face are joined by seven beautiful bridges. Summer daytime temperatures range from 20 to 35 degrees, and that of winter range 5 to minus 30 degrees Celsius.
The population is about 230,000 people, and the city is surrounded by a wealth of resources and nature. Saskatoon is one of the most livable cities in Canada with a large scale university. The University of Saskatchewan is the largest university in the province of Saskatchewan, and a top-tier English-speaking university in Canada with a broad combination of different studies. 20,000 students study at the University of Saskatchewan, with 2,300 international students. There are more than 100 master's programs, 50 Ph.D. programs and 16 post graduate diploma options.options.

There is a diversity of academic programs, with engineering, law, medicine, and arts and sciences, in addition to the Department of Plant Sciences in the agriculture and bioresources
Students can learn crop science, horticulture science, plant ecology or rangeland studies in one department, and will receive a wide range of knowledge and well-rounded experience through research in the Department of Plant Sciences.
The Department of Plant Sciences is housed in the state-of –the –art Agriculture Building. Located within the building are 180 research laboratories and a huge environmental facility, greenhouse, and fields dedicated to plant research (1,979ha).Also, the Crop Development Centre, which has developed a variety of crops, is fully integrated into the department.
Please refer to the details on the website of University of Saskatchewan as follows.
University of Saskatchewan website: http://www.usask.ca/
University of Saskatchewan agricultural and bioresources website: http://agbio.usask.ca./index.php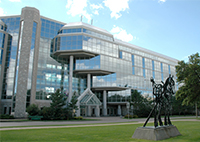 Degrees
<UGAS>
Doctor of Philosophy
<U of S>
Ph. D. in Plant Science
※Each degree parchment will be awarded by UGAS and the U of S. An English Certificate will also be issued with a statement of Dual Degree Program completion.
Requirements
Dual Degree Program students must meet the following requirements at both universities
<UGAS>
・Obtain more than 8 credits of compulsory courses including 6 credits of Advanced Research and more than 5 credits in elective courses including credits of courses at the U of S
・Take the non-credit Ethics and Research course
・Have the Midterm Presentation at least three and not more than nine months before the application for the degree
・Acceptance of at least one manuscript in a refereed international journal
・Doctoral thesis in English
・Satisfactory Ph.D. defence
<U of S>
・Take all compulsory non-credit courses and one elective three credit course.
・Pass the Comprehensive Examination
・Doctoral thesis in English
・Accepted by the Examination Committee of doctoral thesis
Tuition
Students should pay the tuition fee to Iwate University for the full duration of the school period.
It is the responsibilities of the UGAS students to pay all of their own living and accommodation expenses while in Canada. However, there are optional fellowships supported by Iwate University.
One round-trip travel expenses from Canada to Japan will be provided to students by UGAS.
Committee Composition Supervisor Role
The thesis advisory committee is to be composed of three members from each university for a total of six faculty members.

Application Requirements
To register in Dual Ph.D. Program, applicants must:
1) Satisfy the requirements indicated in the Guidelines for Applicants for Admission of UGAS, clause (1) to (5) in section Ⅴ. The Guidelines for Applicants for Admission of UGAS will be open in middle of May, 2014.
2) Satisfy the language requirements demanded by U of S
However, even if a student doesn't meet the language requirements, she or he may be admitted with the approval from the U of S (in that case, they must meet the requirements before attending at the U of S in year two). Please find the language requirements on the following website:
https://grad.usask.ca/admissions/admission-requirements.php#Englishlanguageproficiencyrequirements
3) The research subject is appropriate for the Ph.D. program in Plant Sciences of University of Saskatchewan. A3) The research subject is appropriate for the Ph.D. program in Plant Sciences of University of Saskatchewan. Applicants and their supervisors in UGAS must discuss their education and research programs with the co-supervisor-to-be of U of S in advance.
Notes:
Applicants must have approval from a co-supervisor at U of S before they apply. Applicants must contact an appropriate professor in U of S regarding their application to the Dual Ph.D. program. Please refer to the U of S website for contact information, and make sure to indicate "Regarding application for the Dual Ph. D. program" when you send the email. In addition, applicants should discuss with their co-supervisor in UGAS about how to contact a co-supervisor in U of S in advance. Notes!
Foreign students supported by the Japanese Government (Monbukagakusho) are not able to apply for the Dual Ph. D. program. Moreover, foreign national applicants who receive scholarship support from their countries or a private foundation need to confirm whether it is acceptable to enroll in a foreign university during the program. They must then submit the certificate to confirm that it is permitted to study in a university of a third country.